Blog
The "Metropolitan" Legacy: Rustic Street Pavers Transform a Driveway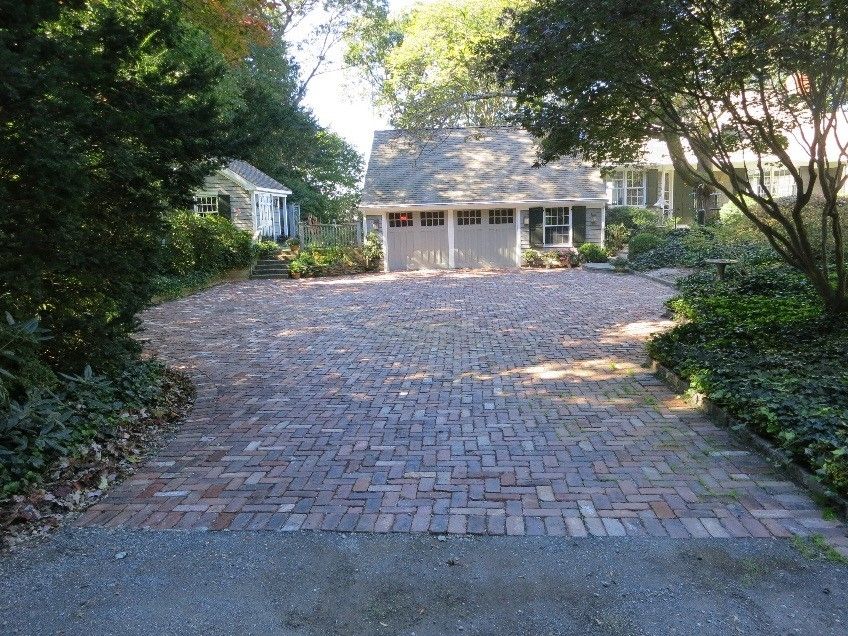 With an old-school charm, Metropolitan pavers invite guests to feel at home.
You know a brick is special when you can literally read its history on its face. Visitors to Tom R.'s home are greeted by a dozen bricks laid out near the entrance with the identifying words: "Metropolitan Block, Canton, O."
"Everyone who comes to our home admires them," says Tom.
Gavin Historical Bricks supplied the 2,000 square feet of Metropolitan pavers for the driveway to his and his wife's Cape Cod overlooking Long Island Sound. While the arrangement at the entrance is charming, the rest of the bricks – laid in the traditional manner with the words on the underside – are just as effective in creating an aura of history. As Tom puts it, "The whole parking area looks like it's been there for a hundred years!"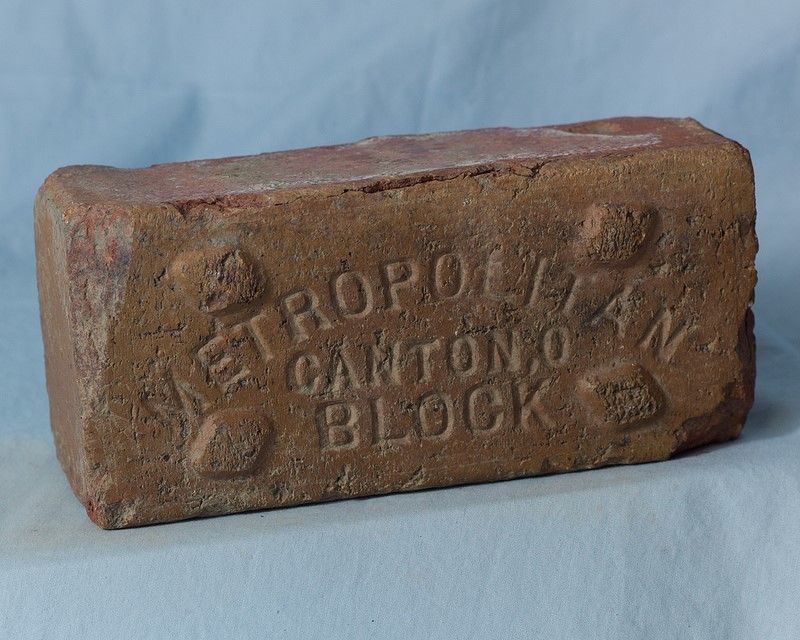 Underside of a typical Metropolitan paver. The Ohio company once led the world in brickmaking.
The pavers were salvaged from Midwest streets, but the Metropolitan Brick Company was hardly a regional company. Indeed, their product can still be found all across North America.
Early in the 20th century, Canton held the title of "brick-paving capital of the world" thanks to its proximity to abundant clay and shale deposits. Early in the 20th century, as many as 15 manufacturers were in operation in the city.
Formed in 1902 from the merger of two companies, Metropolitan soon made itself into the industry leader and controlled most of the brickmaking in northeastern Ohio. In the 1920s, their annual output eclipsed 90 million – the equivalent of more than 10,000 bricks per hour! Newspapers reported on Metropolitan's large-scale shipments to places as far away as New Brunswick, Canada and the Yucatan in Mexico.
Although asphalt is now the dominant street paving material in the US, brick pavers are still visible in many older cities, especially in historic districts and narrower pedestrian alleys. In other cases, original Metropolitan blocks were simply kept in place under the new layers of asphalt, and remain hidden as time capsules from an earlier era.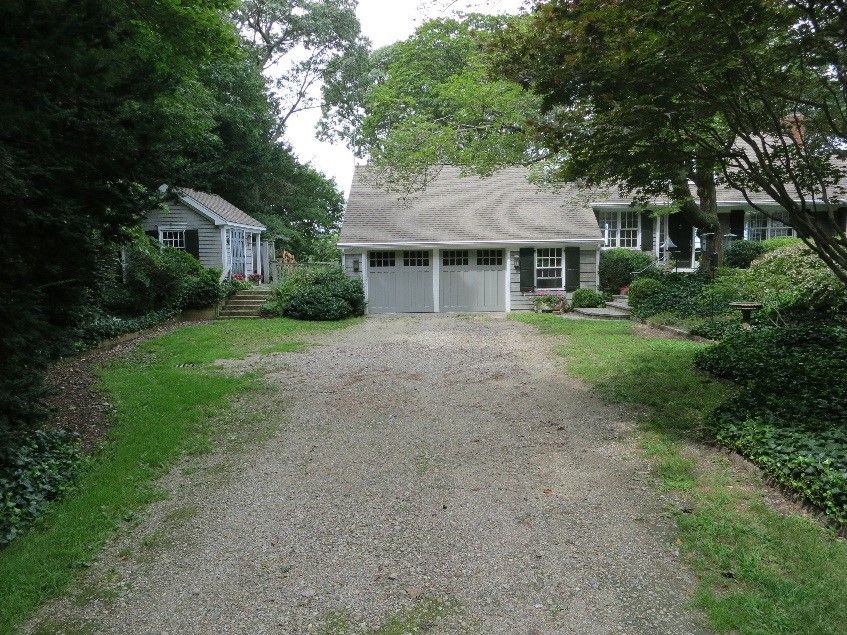 Prior to installation, the entire driveway consisted of recycled concrete aggregate.
As caring owners like Tom demonstrate, these pavers reclaimed from public streets can work wonders for private reuse.
He grew up immersed in history, spending his Wisconsin childhood in a 150-year-old fieldstone house. So when considering how to upgrade the driveway on his Long Island property, made from recycled concrete aggregate (RCA), he knew something with old-school brick, not asphalt or crushed gravel, was the way to go.
Initially, though, figuring out how to go about it was a challenge. He almost settled on manufactured pavers, but after finding Gavin online he confirmed the rustic type of paver he had in mind. The team at Gavin were very responsive and resolved all of his questions on pricing and shipping. The whole installation took five days, and "the end result is fabulous," says Tom.
The multi-colored pavers complement not only the front steps but the surrounding garden spaces as well
Part of the driveway remains RCA, but Tom finds that it blends well with the old brick. Finding an installer with patience and care was crucial to the project's success, as was a smart and responsible supplier: "We couldn't be happier. The people at Gavin are a great source of antique bricks, but were proven to be honest, knowledgeable and a pleasure to deal with."
Antique Brewery Bricks, Reborn in the Land of Wine

[The Cloverdale ranch house overlooks the valley of Sonoma County | Photo: Kate Revell]
What do Midwestern suds have to do with a ranch house in Northern California?
The bricks that make up Styles Design's award-winning house in Cloverdale, California, started off with a much different life: a hundred years ago, they lined the walls of a Cleveland brew house.
Architect and builder Joe Styles says the antique brewery bricks — reclaimed and supplied by Gavin Historical Bricks — were just what he needed to make his magnificent house come to life.
He strived to incorporate a sense of informality into his design that would give a contemporary feel to his historic building materials, and used the horizontal patterns to invite the eye to explore the valley below. And the authenticity and the patina of these clay-fired bricks are something that modern-day buildings blocks can't offer.
"When sunlight falls across the face of these bricks, their depth and character is stunning," says Styles, a Bay Area native who studied architecture in Los Angeles and Switzerland. With over two decades in design, construction and furniture making, he says today his chief interest as an architect is designing residences.
The Cloverdale house earned Styles the gold medal for single-family residence in the 2014 Brick in Architecture Award competition, held by the Brick Industry Association.

[Illustration of the Forest City Brewing Co. shortly after opening in the 1900s]
So what led him to Gavin in the midst of this three-year project?
Styles started out with locally salvaged bricks, but knew there weren't enough to complete the house. Turning his search nationally, he found the perfect partnership with Gavin, who provided the right match for his original brick and a convenient shipping process from the Midwest.
Gavin's reclaimed bricks came from the original Forest City Brewing Company in Cleveland. While beer may not be the first thing that one associates with the city, it turns out it has a rich history.
Forest City's brewing house originally stood five stories, with an embellished industrial Victorian design in its towers and gables, and boasted an annual capacity of 50,000 barrels. Built with steel supports instead of wood, it was a much sturdier facility than had been available to 19th-century beer makers. In 1910, it was one of 26 breweries operating in Cleveland, which ranked 13th in the nation in malt liquor production and helped to make Ohio the third most active brewing state.
Forest City specialized in select pilsner beer before Prohibition, when beer production ceased everywhere in the US and the company had to rebrand itself as the Forest City New Process Co. Just four breweries in Cleveland returned to brewing beer at Prohibition's end in 1933, and Forest City was one of them. Though it expanded to new offerings like Waldorf bock and Samson ale, the best times for Cleveland's beer industry were behind it. In 1948, Forest City Brewery closed its doors.

[The house's wine cellar is one of many unique designs that show off the versatility of brewery brick | Photo: Kate Revell]
But the legacy lives on, as evidenced in the resurgence in craft breweries in the city today, one of which has reassumed the Forest City name. Meanwhile, about 30,000 of the surviving bricks from the 20th-century Forest City have brought a legacy of their own to the American West.
Joe Styles says the owners of the Cloverdale home loved the unique features of the bricks, including the fact that they were painted, and had evidence of previous use like animal prints and wood form impressions. "The owners loved this added dimension," he says. "It spoke directly to their core concept of reuse."
The historic patina was used to accent the great room, entry, master bedroom, guest suites and back courtyard of the ranch house, and, Styles says, it was a design element that reinforced an arrangement that created distinct spaces of utility, privacy and social gathering.
Northern California, of course, is a region better known for wine than beer. One of the triumphs of the house that earned it its award is its breathtaking wine cellar, which proves that brewery blocks can be used flexibly for new purposes well beyond their usual horizontal layout.
Whatever the beverage, Forest City's old brewery bricks remain in the company of good spirits.